William Ricke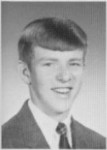 Services for William E. Ricke, 49, Saugus, Calif., formerly of East Moline, are 11 a.m. today at First Baptist Church, East Moline. Burial is in Greenview Memorial Gardens, East Moline.
Visitation was Friday at Van Hoe Funeral Home Ltd., East Moline. In lieu of flowers, memorials may be made to the family, care of Vista Federal Credit Union, 500 S. Buena Vista, Burbank, CA 91521.
Bill died suddenly on Thursday, Feb. 17, 2000.
He was born Aug. 8, 1950, in Greensburg, Ind., the son of Lowell Eugene and Barbara Amrhein Ricke. He married LuAnn Griffin May 29, 1984, in Los Angeles, Calif.
Bill was an electrician at Walt Disney Studios in Burbank, Calif.
He enjoyed spending time with his two daughters and loving wife. He also enjoyed golfing and camping and was a starting flagman for Pace Motor Sports. He will be dearly missed.
Survivors include his wife; daughters, Kathryn and Laura, both at home; sisters and brothers-in-law, Teri and Bill Church, Coal Valley, and Luann and Mark Morelock, Moline; a brother, Pat Ricke, Coal Valley; and his father, East Moline.
Obituary from QC Online